Fine Art of Anderson R. Moore, "Having grown up along the Front Range of the Rocky Mountains, playing in the Cache La Poudre River in northern Colorado, I feel very privileged. Getting to have paint and fish other magical rivers in the Mountain States, Pacific Northwest and British Columbia, has been a blessing.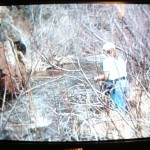 If I ever have to move,  I will always be connected to the west. Many of my inspirations come from long days spent fishing on a river and tying flies stream-side. I am so blessed and privileged to live and travel the most spectacular and pristine wilderness around the world and play an active role in it's preservation through my art and fly fishing." Anderson R. Moore
Artist Bio
Anderson, is a fly fishing junkie, ( junk·ie also junk·y (j ng k ). n. pl. junk·ies Slang- one who lives, sleeps, eats and breaths fly fishing) and a full time, self taught artist in silk painting, oils, watercolor, and scratchboard.  Anderson R. Moore has been in both Colorado and Pacific Northwest art markets for years and is well known for her fly fishing and scratch board art.  "An Artist no longer living in the shadows of painting by night, working by day. Painting and drawing what ever moves me, mostly fly fishing art, and painting what ever fun things I can on silk."  She has shown her fly fishing art in Seattle, Idaho and most recently in Colorado. Officially represented by Xanadu Gallery, of Scottsdale Arizona.
Over the last decade, Anderson R. Moore has expanded her means of expressing her views using the ancient art of Silk Painting.  In the process of silk painting she is continuing to perfect her own style in a specialized technique taught to her by Karen Sistek, Master Silk Painter from Port Angeles, Washington.  Applying dyes to silk with brushes and steam set dyes. Once the dyes have been steamed and rinsed for her wall art, they can be mounted in many different ways. This type of art may be hung essentially without glass enabling the viewer to continue to feel and visualize the natural luminescence of the silk and vibrant colors of the dyes used.  Anderson teaches classes in silk painting for beginners and advanced artists in both a classroom setting and private instruction.
Please contact Anderson R. Moore if you would like more information about any of the works found in the galleries. To make a purchase, discuss commissions, and licensing or to sign up for classes or private instruction, please contact me directly\ using the Contact Page.
To find other products and works by this artist, you can view her artist website at anderson-moore.artistwebsites.com .   Many of the artists works are available in reproduction prints on Fine Art America where choices are available for greeting cards, fine art prints, canvas, metal prints, and other styles to choose from as well as matting and framing choices.
Email: flyart@anglersnirvana.com
Enjoy, and I hope to see you along the river or my pallet soon, in the meantime, just go fish! Andy-