Fly Anglers Nirvana- Oh yea; I love fly fishing, art, cooking and listening to music.  Life would be simple if I only liked one.
However, it would also be very boring to live that way.  It would maybe be nicer,  in a sense,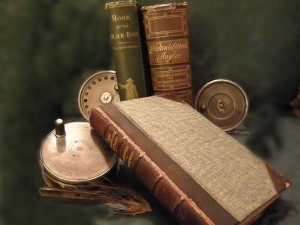 so that I could get better at one, but I've always spread myself thin,  ok – I admit it, but uhmmm, it is who I am. I enjoy reading old dusty books on the subject of fishing. I collect the magazines and catalogs of fishing gear, and will sit for hours browsing. I could stare at my fathers fishing photos and gear.  Truly a fly anglers nirvana. Touching the rods and reels, I can sense some of the magic he has instilled in them. It is a great pleasure to watch him work one of his canes and see the life that he puts into it once it is out of the bag.
Perfect example;  I will be in the middle of painting and look out the window and the day is perfect to go fish and the river or wind will call my name. I will then get up, gather my gear and make the twenty or thirty minute drive to the river to wet a line.  All caught up in the pleasures of being outside, enjoying the environment and the mystical water flowing past, with that lazy, captivating albeit, mesmerizing flow and rivers song.

Completely fueled by any magic that is hidden along the banks, deep below the surface and within the darkened forest close by.  At that moment, I have forgotten that I have a painting that needs to be done soon. Rightly so, and as it should be, pure magic, pure magic I say, and I am under the spell cast upon me called fly fishing.
if I were not able to get out and into a river to toss a fly more than once a year, that would be unbearable.
If you are in the Northern Colorado area and want to cast a line let me know dates, I will do my best to be there.
See you along the river soon or in the studio if I must.