Doing a new scratchboard: Gratifying! Every once and again, I enjoy creating fly fishing art that compliments a collection already in process.  While I also enjoy making others happy this one makes me feel doubly blessed to know such great fly fishing people and have them in my life.
In 2009 I met some of the greatest Spey fly tiers there are – and some of the most humble, down to earth and welcoming people I had ever met.  Given an opportunity to create some art for  The Red Shed Fly Shop  Spey Clave that year was an honor I gladly took.
As a surprise from my father Jack Moore and myself, to thank Poppy and Mrs. Red Shed for allowing me to show some of my art during the Clave, I presented him with an original framed painting of a fly.
(click on photos to enlarge)
The Poppy Spey Fly-  created by David Tucker, was introduced to Mike Cummings (Poppy) at the Red Shed Fly Shop at Peck Idaho, and the Clearwater River for Steelhead fishing, I believe in the 2009 season.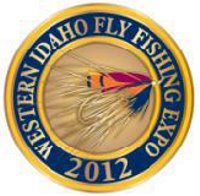 In 2012 this fly was chosen to be made in to a pin by the Boise Valley Fly Fishers  for their  Western Idaho Fly Fishing Expo, because of how successful it is in the Idaho and the NW.
That year I painted a commemorative water color for that show and provided a limited set of  signed and numbered prints for The Red Shed Fly Shop  (in 2012) and sent the original  to David and Rhonda Tucker of Dream's on the Fly.
As you can see there were several different ties of the fly dressed in various ways that I was given, and photographed to use as inspiration for the paintings I made.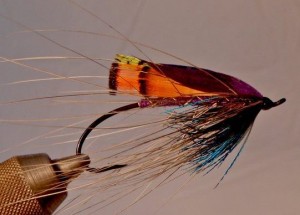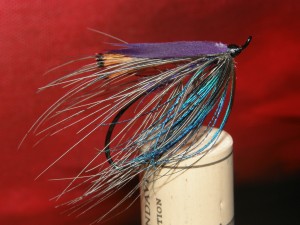 During the painting process I did not know there was a Fully Dressed put your tuxedo on type of version given to Poppy for his private collection. Two years ago while I was at The Red Shed Fly Shop visiting my good friends the Cummings family,  I was shown the fully dressed version. Sadly for me, I did not photograph it at that time. Last year in preparation of making the Idaho painting in honor of this fly being chosen for the Pin for the Boise Valley Fly Fishers show, I was sent a photo of the fully dressed version by Mrs. Red Shed. It is so much more beautiful in person.  I truly appreciate the time and thought David took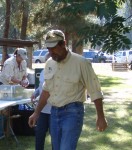 in creating this wonderful fly. It has been very productive on the local waters in Idaho – the Clearwater River and others as fished by many. This year I decided to honor the Tier, David Tucker with his own version of the Fly rendered in Scratchboard. Mr. Tucker and his family are superb folks who Own and Operate Dream's on The Fly  a Fly Fishing Guide business in Idaho / Oregon along the Owyhee River. 
Doing scratchboard gives me a very kind (to me) opening in my work to play and relax with my favorite fly fishing subjects and take my time, (you can not hurry scratchboard) however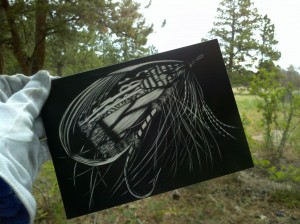 many hours that takes or days if you will.  I started this piece and enjoyed working on it so much I took it with me camping several  weekends. Brought it home and spent another two days trying to get it finished so I could begin to paint it. Once the color was added it took several more layers of ink and scratches to get it all done. I sprayed the board and wow it popped -relief. As it was drying  I snapped a quick picture of it. Yesterday it was mailed out and I am glad that I was blessed enough to scratch and paint this beautiful fly.

So here is to you – David Tucker, you have given the world a great productive fly, and hopefully you will continue to create flies that serve the fly fishing world for a very long time to come!

Anderson